NBMAP Blog: Respectful Workplaces
Posted by Jane Crawford on 18 April 2019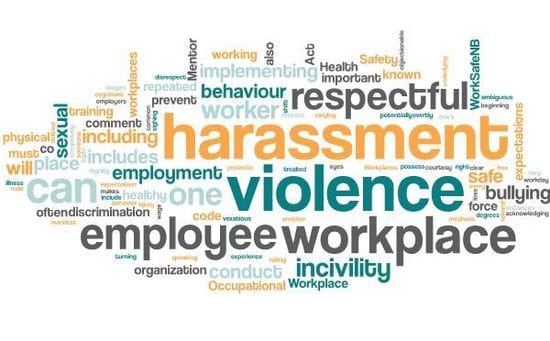 Respectful Workplaces
It is completely natural for an employee to possess an underlying expectation that they will be treated with dignity, respect and common courtesy while at their place of employment. WorkSafeNB makes it very clear that "every worker has a right to a healthy and safe workplace, one that protects them from injury, illness and wage loss. And a healthy and safe workplace must be a respectful one free of violence and harassment". While most employers will experience very few instances of harassment, bullying and violence, it is important to be cognizant of the varying degrees in which this type of behavior can manifest and the methods to prevent incivility from potentially turning into workplace violence.
The stages of disrespect can vary from incivility to bullying, harassment, discrimination, and violence. Incivility can include rolling one's eyes, overtly sighing when someone is speaking or not acknowledging a co-worker at the beginning of a workday or shift. This behaviour is often rude and ambiguous where as harassment includes a more vexatious comment or conduct against another worker. Workplace harassment, in a place of employment, is defined as "any objectionable or offensive behaviour that is known or ought reasonably to be known to be unwelcome, including bullying or any other conduct, comment or display made on either a one-time or repeated basis that threatens the health or safety of an employee, and includes sexual harassment". Harassment is more intentional and can arise when a person does not like something specific about a co-worker or violates one of the basic human rights including, but not limited to, race, age, religion, sexual orientation and gender and can all be grounds for discrimination. There have been several studies that show often repeated occurrences of incivility can escalate to become harassment and occasionally result in workplace violence. According to the Occupational Health and Safety Act "violence, in a place of employment, means the attempted or actual use of physical force against an employee, or any threatening statement or behaviour that gives an employee reasonable cause to believe that physical force will be used against the employee, and includes sexual violence, intimate partner violence and domestic violence".
The foundation of respectful workplaces needs to start with formal and informal expectations and values instilled within an organization. Expectations must be clearly communicated both in writing through policies and a code of conduct but also through the norms and actions of all levels of leadership. The recent amendment to General Regulation 91-191 of the Occupational Health and Safety Act, addressing workplace violence and harassment came into effect on April 1, 2019 and requires "all provincial workplaces to develop a code of practice to prevent workplace harassment." Implementing these strategies and working towards increasing employee engagement to build a more respectful and safe work environment is paramount to the future success of an organization. It is also important to note that implementing a respectful workplace is not the requirement of any one employee or department but is an organizational obligation.
The New Brunswick Mentor Apprentice Program (NBMAP) offers training including the Mentor Approach, Balance & Diversity in the Workforce and Generations in the Workplace. Taking advantage of resources available through WorkSafeNB, working with your local association(s) and implementing interactive training can be great initiatives to building a respectful workplace!
Author: Jane Crawford